Arkansas TBF 2019 Tournament Schedule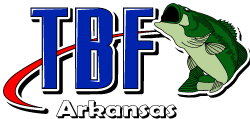 The 2019 TBF season will be here before you know it! Anglers and co-anglers will be fishing for a spot in the TBF National Semi-Finals tournament for an entry to the TBF National Championship and the BFL All American.
The 2019 Arkansas TBF Schedule is:
 2-16- Lake Hamilton- Fish Hatchery
3-16- Lake Ouachita – Mt. Harbor
4-27- Lake Dardanelle- Hwy 64 Illinois Bayou
There will be a mandatory meeting the Friday night before each tournament. Pre-tournament meeting details will be announced prior to each tournament.
2019 TBF Membership Notes:
To avoid paying for your FLW membership twice, we encourage everyone to purchase their 2019 TBF membership thru the Arkansas TBF before purchasing a 2019 FLW membership. The TBF membership will include membership in FLW.
See us on Facebook at The TBF of Arkansas
Or on the web @ tbfofarkansas.com